FOURTH GENERATION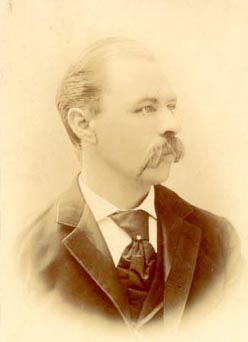 Gottlieb SCHMIDT was born on 27 Dec 1848 in Germany. He died on Jan 5, 1922 in New Ulm, Brown, Minnesota.
GOT. SCHMIDT KILLED--ACCIDENT AT MILL. Wellknown Citizen Crushed Between Cars and Engine Room Thursday Morning.
Got.Schmidt, foreman of the warehouse, at Eagle mill and wellknown citizen of New Ulm, met his death by being crushed between the engine room and cars, being switched by an M. & St. L. crew Wednesday morning about nine o'clock. According to testimony given at an inquest held at the Forster undertaking rooms that afternoon, none of the switching crew saw him, while they were switching cars at the mill
Ed. C. Veeck, superintendent of the mill, noticed the body of a man lying near the engine room, shortly after nine o'clock, and together with Wm. Marx and two other employes of the mill went out and discovered it was that of Mr. Schmidt. They carried the body into the mill office and called Dr. T. F. Hammermeister. Meanwhile they moved the arms and lower limbs in an attempt to keep life in the body, if it was not already extinct. The body was warm when found, but it is probable that Mr. Schmidt was killed almost instantly.
The remains were taken to the Forster undertaking rooms as soon as Dr. Hammermeister had pronounced that death had ensued. Dr. O. C. Strickler and Coroner G. F. Reineke performed an autopsy and it was then found that Mr. Schmidt had come to his death through an accident and not by a stroke of apoplexy as was first supposed.
A coroner's inquest was held Wednesday afternoon and a number of witnesses gave their testimony. County Attorney W. T. Eckstein, together with the coroner and Attorney H. H. Fior conducted the examination.
The coroner's jury, composed of John C. Siebenbrunner, Aug. Thiede, John Franta, Wm. Durbahn, Wm. H. Bierbaum and Herman Stegemann, returned a verdict that the death of Gottlieb Schmidt "was due to an accident by being crushed between a freight car and the engine room wall of the Eagle mill, while switching was being done."
It is supposed that Mr. Schmidt, after his visit in the Eagle office, was returning to the warehouse and attempted to pass between the corner of the engine room and the cars, which were on the side track at that time. It is not supposed that the cars were moving at the time, but that the train started just as he was in position to be caught at the corner, and that his body was turned around and crushed. The accident is one of the most horrible that has occurred in New Ulm for some time and is a most lamentable one.
Got. Schmidt was born December 27, 1848 at Ulm, Wuerttemberg, Germany, and came to America with his parents, when a lad of six years of age. The family took up its residence at Cary Station, Ill., near Chicago. He followed the carpenter trade, when a young man, and was married to Miss Emma Heidemann at Algonquin, Ill., December 27, 1877. She passed away January 18, 1921. The family removed to New Ulm in 1880. Mrs. Schmidt's brother, C. W. H. Heidemann was Northwestern station agent and they came here to visit and were so well pleased with local conditions that they decided to remain, and this has been the family's home since. Mr. Schmidt secured a position at the head of the freight and baggage department at the local Northwestern depot and remained in that capacity, until he was appointed postmaster by President Benj. Harrison. He served four years and then returned to his former position at the Northwestern depot. He was appointed assistant postmaster by L. B. Krook and served during Mr. Krook's incumbency as postmaster. Following this he has been foreman of the warehouse at the Eagle mill. The deceased also represented his ward in the city council.
Mr. Schmidt was a member of Charity lodge, No. 98, A. F. & A. M. for many years and served twenty-six years in the capacity of secretary to this organization. This event was recently celebrated. He was also a member of the New Ulm Chapter, No. 57, R. A. M., and served as secretary for a number of years. Mr. Schmidt was a faithful member of the Congregational church and was one of New Ulm's most admired citizens. He was cheerful, had a good word for all, and his admirable qualities could not help but be universally noticed. His untimely end is mourned by all.
The deceased is survived by five children, as follows: Wm. F. Schmidt, station agent for the C. & N. W. at Huron, S. D.; Miss Bertha, at home; Miss Elizabeth, instructor in the local schools; George, employed in the Eagle mill office, and Miss Edith, who was at Elgin, Ill., at the time of her father's death, caring for a relative, who is ill. New Ulm Journal, New Ulm, Minnesota, Jan 7, 1922
Gotlieb Schmidt Killed By Train - Mr. and Mrs. John J. Smith received word of the sudden death of the latter's brother, Gotlieb Schmidt, at New Ulm, Minn. Mr. Schmidt was killed instantly by a train last Tuesday while at work on the railroad. Mr. Schmidt will be remembered by some of the older Cary residents, as he was reared and lived here for many years. In 1880 he moved to New Ulm, Minn., and resided there up to the time of his death. He was 73 years old and had always enjoyed robust health. Mrs. Smith left here last Thursday evening to attend the funeral, which was held at New Ulm last Sunday. The large attendance at the services testified to the high esteem in which the deceased was held. Mr. and Mrs. Smith have the sympathy of all their friends. - Crystal Lake Herald, Jan 12, 1922.

He was married to Emma Heideman on December 27, 1877.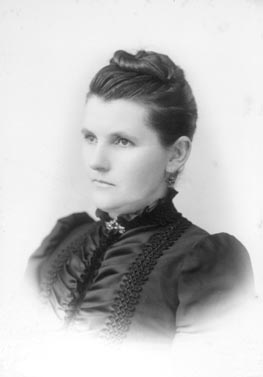 Emma HEIDEMAN was born in December 24, 1853 in Elgin, Kane, Illinois, the daughter of Henry and Caroline Heidemann. She died on January 18, 1921.
MRS. GOTTLIEB SCHMIDT. Many hearts were saddened yesterday, when it became known that Mrs. Gottlieb Schmidt, nee Emma Heidemann, had passed away. The end came at a local hospital yesterday morning at 9 o'clock, about 24 hours after she had submitted to an operation for cancer of the stomach. She had not complained of being ill until shortly after Christmas, having seemingly enjoyed the best of health prior to that time. The bereaved family have the sincere sympathy of a large circle of friends.
Deceased was 67 years of age, having been born December 24, 1853, at Elgin, Ill. She was married to her surviving husband at Algonquin, Ill., December 27, 1877, and the family removed to Minnesota in 1880, arriving in New Ulm October 1 of that year. This city had since been her home. She was one of the early members of the Congregational church here and was also a member of Orient Chapter No. 60, Order of the Eastern Star.
Mrs. Schmidt was the mother of five children, all of whom, with the grief-stricken husband, are left to mourn the loss of a devoted wife and loving mother. The children are: William F. Schmidt, Huron, S. D., Miss Edith Schmidt, a nurse at the Eitel Hospital, Minneapolis, and who came here to assist in caring for her mother, and George Schmidt and the Misses Bertha and Elizabeth Schmidt, … Review, New Ulm, Minnesota, January 19, 1921.
Mrs. John J. Smith received word Tuesday morning that her sister-in-law, Mrs. Gottlieb Schmidt has passed away at her home in New Ulm, Minn., following an operation. Mrs. Schmidt, who was formerly Miss Emma Heidemann of Algonquin, was 68 years of age at the time of her death. She moved from here about thirty-five years ago. Mr. Smith left Tuesday evening to attend the funeral, which was held Tuesday afternoon at 2:30. - Crystal Lake Herald, Jan. 20, 1921.
Children were:

| | |
| --- | --- |
| | |
| George and William Schmidt | Bertha and Edith Schmidt |

i. William Frederick SCHMIDT


ii. Bertha SCHMIDT was born June 21, 1880 in Algonquin, Illinois. She died April 7, 1966.
Mrs. Bertha Caswell. -- Memorial and committal services will be held in the City Cemetery 2 p.m. Saturday for Mrs. Bertha Caswell, who died Thursday in Methodist Hospital, St. Louis Park. The Rev. Boyd Granzow of the Congregational Church will officiate.
Also at Mrs. Caswell's request, there will be no visitation. Gedstad-Hines Funeral Home is arranging the service.
She had been a resident of the Minnesota Masonic Home since last September. The daughter of the late Gottlieb and Emma Schmidt, she was born June 21, 1880 at Algonquin, Ill.
Mrs. Caswell came to New Ulm with her parents in 1880 and lived here her entire life until moving to the Masonic Home.
She married William R. Caswell on Oct. 7, 1925. He died the following year.
Mrs. Caswell was a member of the New Ulm Congregational Church for 75 years. She was a member of the Orient Chapter, OES, for over 63 years and a member of the past matrons 55 years.
She is survived by two sisters, Mrs. Edith Bampie of Miami, Fla. and Mrs. Van B. (Elizabeth) Partridge of Owatonna, six nephews and three nieces. Two brothers, William and George L., preceded her in death. William had resided at Huron, S.D. and George in New Ulm. - New Ulm Daily Journal, New Ulm, Minnesota, April 8, 1966

iii. George Lewis SCHMIDT was born in March 1882 in New Ulm, Brown, Minnesota. He retired from Eagle Roller Mill in New Ulm, Minnesota.


iv. Edith SCHMIDT was born in February 1883 in New Ulm, Brown, Minnesota. She was married to Mr. BAMPIE. She lived in Miami, Florida. They had one daughter, Maxine.


v. Elizabeth Augusta SCHMIDT was born on 16 September 1893 in New Ulm, Brown, Minnesota. She was married to Van B. PARTRIDGE (1894-1994). They had two sons, James and John. Elizabeth died on 27 April 1983.
Priv. Geo. L. Schmidt and Srgt.Maj. Wm. F. Schmidt
Second Regiment N.G.S.M. - Camp Lake View, Minnesota - July 15, 1902

Elizabeth, Edith, Bertha, Emma (Heideman) Schmidt - Circa. 1905