FOURTH GENERATION
10. Geert LAMEIJER
He died at a young age in Holland.
He was married to Geesien BUSSCHER.
11. Geesien (Lizzie) (Catherine) BUISKER (BUSSCHER)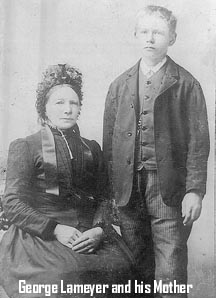 Statement of Edna Lameyer Busack: "Catherine (Geesien) Lameyer's husband died in Holland. She later came to the USA with three sons and a daughter. Another son and daughter remained in Holland (Beerta). Catherine (the mother) and George (her son) lived on a large farm on Lamm Road at one time. Catherine was buried in Florence Station Cemetery. There is no grave stone. The plot was located under a tree (at that time)."
Children were:



i. Heiko LAMEIJER was born abt. 1862. She married Fenje KLAASSENS on 23 May 1885.


ii. Harmina LAMEIJER was born abt. 1870. She married Roelf KOLKMAN on 23 May 1891.


iii. Benjamin LAMEIJER was born 21 August 1873 in the Netherlands.
His marriage license says (at the top) that his name is Berend Lohmeier. Lower on the paper it shows his name as Benjamin Lameyer. It also says his fathers name is George Lameyer and his mothers name is Lizzie Busker. Both he and his brother George were married in Freeport, Illinois.

He moved to Lennox and Wilmot, So. Dakota. He had 5 sons. Two died in infancy. There was an unnamed son born in Bailyville, Illinois on July 9, 1907 before his move to So. Dakota. It is not known to which of his two undated sons, Walter or Ben, this date belongs. He also had 2 daughters. His obituary reads:

STERBETALLE HEART AILMENT CLAIMS BEN LAMEYER, SUNDAY
Ben Lameyer answered the beck and call of his maker at his home in this city last Sunday evening when he succumbed to a heart ailment from which he had suffered for many years and passed into the Great Beyond. His age at the time of death was 69 years, 1 month and 26 days.
Ben Lameyer was born in Holland on Aug 21, 1873. He came to America at the age of 12years (ERROR) and lived in various parts of the central west, and on November 19, 1898 was united in marriage with Winnie Moerke at Freeport, Illinois. Seven children were born to the union. He came west to Lennox, this state, in 1907, and 23 years ago came to the Wilmot community and followed the occupation of farming. Due to failing health he came to Wilmot to live four years ago.
Deceased is survived by his wife and four children, two sons having died in infancy, and Ben Jr., in 1936. Those survivors are; George Lameyer and Mrs. David Babb of Wilmot, Walter of Sisseton, and Mrs. August Westphal of Adrian, Minnesota. There are also seven grandchildren. He had been a member of the Presbyterian church for twenty years. The funeral will be held this (Thursday) afternoon at the Presbyterian church at two o'clock with Rev. Chas. Collison officiating.
Ben Lameyer was a good citizen, and a good neighbor, friendly and peace loving. He has made a host of friends in this community who will genuinely miss his friendly greeting.
Benjamin died 17 October, 1942 in Wilmot, Roberts, South Dakota.

5 iv. Catherine LAMEIJER


v. George LAMEIJER was born 14 August, 1880 in Beerta, Groningen, Netherlands. His Walker Mortuary Funeral pamphlet says he was born Aug. 14, 1880. His tombstone also says 1880. The family bible (below) says 1883. His marriage license says he was 54 when he married Minnie Lubbers in 1915 which would indicate a date of 1861.

He came to the USA in 1898 and was naturalized in 1942.

Writings in old German bible belonging to George Ben Lameyer Sr. George Lameyer of Rockford, Illinois now has possession. "George Ben Lameyer, Born at Beerta, Holland Aug 14,1883. Minnie Lubbers, Born at Forreston, Illinois Aug 23, 1893. Broar Nolen Lameyer, Born at Baileyville, Illinois Nov 6, 1902. Gezina Emma Lameyer, Born at Baileyville, Illinois April 21, 1908. Edna Louise Lameyer, Born at Freeport, Illinois Mar 28, 1920. Evelyn Tena Lameyer, Born at Feb 9, 1926. Georgie Junior Lameyer, Born Dec 5, 1931 (George Lameyer of Rockford)."

Freeport Jounal Standard, Thursday, August 28,1952
George Lameyer Obituary

Service for George Lameyer, 72, 1768 S. Chicago Ave. who was fatally injured in an auto wreck Tuesday night, will be held in the Walker mortuary at 3 p.m. Saturday. Rev. J. Dale Doolen, pastor of Main Street Evangelical Church will officiate. Interment will be made in Cranes Grove Cemetery. Friends may call at the mortuary.
Mr Lameyer was riding with his son-in-law and daughter, Mr. and Mrs. Peter Albertus, 1769 S. Highland Ave. when he was injured. He suffered from shock and internal injuries. The accident happened on Route 20, five miles east of Freeport. Both Mr. and Mrs. Albertus were injured and remain in a local hospital. Mrs. Albertus was driving when their car swerved off the pavement and then struck another car. A coroners jury returned a verdict of accidental death after investigating the accident Wednesday afternoon.